Attachment Options
Attachment Options is a COM add-in for Microsoft® Outlook® 2000 SP3 or higher, Outlook 2002, and Outlook 2003 or Outlook 2007 that provides a user interface for changing which file types are restricted as Level 1 attachments. Level 1 attachments are hidden by Outlook, and cannot be seen, saved or opened from Outlook items. Moving an attachment extension to Level 2 enables the user to see the attachment and to save it to the file system. The attachment saved to the file system can later be opened by the user.
To open the Attachment Options property page select the Tools menu, then select Options and go to the Attachment Security & Options tab. Move any file extensions from the Level 1 list to the Level 2 list, or from the Level 2 list to the Level 1 list as desired. Files are moved from the Level 1 list to the Level 2 list by selecting file extensions and clicking the Move or Move All buttons. Files are moved from the Level 2 list to the Level 1 list by selecting file extensions and clicking the Remove or Remove All buttons.
Attachment Options also provides a check box to enable reading all e-mail as Plain Text, avoiding HTML e-mail virus and malware exploits, for Outlook 2002, 2003 and 2007. The reading e-mail as Plain Text feature is not available for Outlook 2000.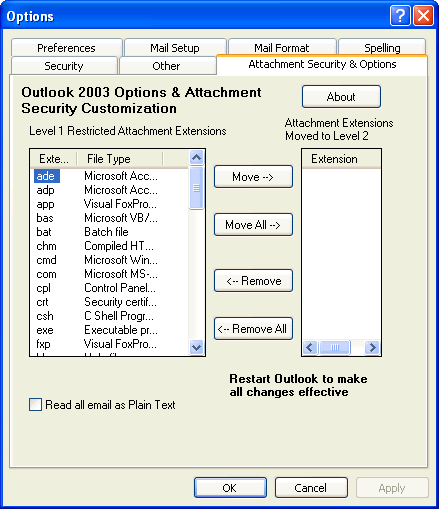 Exit and re-start Outlook to have changes made using Attachment Options take effect.
Note Attachment Options is for Outlook 2000 SP3 or higher, Outlook 2002, Outlook 2003 and Outlook 2007 only.
Note The ability to change which file types are Level 1 may not be available if the user is running with an Exchange server and the Exchange administrator does not allow users this option.
Warning: Changing a file from Level 1 to Level 2 can possibly expose attachments that contain viruses, worms or other malware. The user should exercise all precautions of safe computing, including but not limited to running antivirus software with current signature files, regular system and data backups and not opening unexpected or suspicious attachments. Slovak Technical Services, Inc. takes no responsibility for and warrants no actions any user of Attachment Options that might lead to virus infection or data corruption. More information about protecting Outlook from viruses, worms and other malware can be found at http://www.slipstick.com/outlook/antivirus.htm
Attachment Options is now available for Download. Users of previous versions of Attachment Options can upgrade at no charge.
The Attachment Options download is approximately 1.53 MB. After downloading the file AOsetup.exe run the setup program to extract and install Attachment Options. Further product information is provided in a readme.doc file that is placed in the Attachment Options installation folder.
Attachment Options is a shareware product. To support our efforts to provide useful tools at minimal cost to Outlook users please contribute if you like this product. Donations for Attachment Options are made at PayPal, and the suggested donation is US $10. Slovaktech thanks you for your donation and support.
If you prefer not to use an electronic payment medium, we accept personal and corporate checks made out to Slovak Technical Services, Inc. Please enclose your name and email address with any checks so you can be added to our database of registered users. Send all checks to: Slovak Technical Services, Inc., 2602 Amsden Road, Winter Park, FL 32792, USA.
Attachment Options received rave reviews in WOW (Woody's Office Watch), TNPC (The Naked PC) and PC Magazine.
To learn more about Attachment Options, visit the Attachment Options Web page.
| | |
| --- | --- |
| Current Version: | 1.9.10 |
| Release Date: | June 12, 2009 |
Attachment Options Technical Support
We make every effort to respond to your technical support requests within 24 hours during normal working hours. Our office hours are from 8:30 AM to 5:00 PM U.S. Eastern time, Monday to Friday.
Note Technical support requests will only be accepted via e-mail. Only registered users of Attachment Options are eligible for technical support. Technical support is only available for Attachment Options. For support questions for other software, contact the software manufacturer.